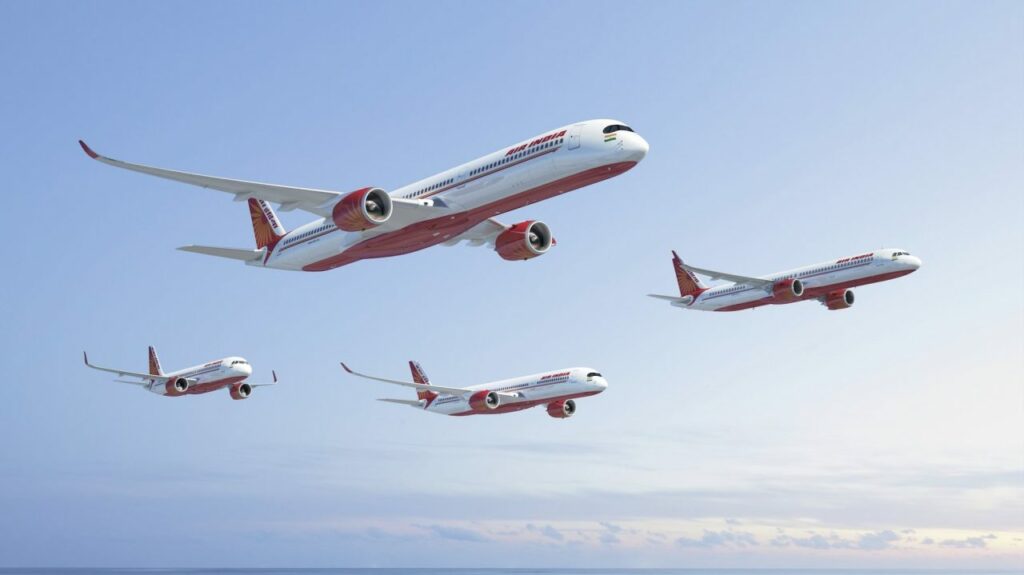 A year after becoming a part of the Tata group, Air India on Tuesday said it had placed an order for 470 planes: 250 with European plane maker Airbus and 220 with American giant Boeing — the world's largest ever single-tranche aircraft purchase. The order comprises 40 Airbus A350s, 210 Airbus A320/321 Neos; 20 Boeing 787s, 10 Boeing 777-9s widebody aircraft and 190 Boeing 737 MAX single-aisle aircraft. The A350 aircraft will be powered by Rolls-Royce engines and the B777/787s by engines from GE Aerospace. All single-aisle aircraft will be powered by engines from CFM International.
The deal is also a welcome boost for Britain's Rolls-Royce, whose Trent XWB engines power Airbus's A350 jets. It will also create 450 manufacturing jobs in the UK, where Airbus designs and builds the wings for all of its commercial aircraft.
In a statement, US President Joe Biden called the Boeing-Air India deal a "historic" one. Biden said: "This announcement also reflects the strength of the US-India ties Together with Prime Minister Modi, I look forward to deepening our partnership even further as we continue to confront shared global challenges — creating a more secure and prosperous future for all of our citizens." French President Macron and the PM of England Rishi Sunak also welcomed the deal.
Benefits for India 
The blockbuster order aims to both modernise and expand the airline's fleet with the objective of creating a larger and premium full-service carrier that will cater to the growing travel demand in the region. Airbus has already confirmed Air India's first A350-900 will be delivered later this year.
Over the next decade, India will grow to have the largest population in the world, its economy will expand the fastest among the G20 nations, and projections indicate that a fast-growing middle class will spend more on air travel. Passenger traffic in India is forecast to grow fast, including on the long-range markets in the US, Europe and Asia-Pacific the A350 and 777 are well-positioned to serve.
Boeing predicted that within the next decade, India will become the third-largest market for air travel, behind the US and China. It expects regional traffic will grow at 7 per cent annually through 2041, nearly double the world average. Today's order leaves Air India "well positioned to achieve its expansion plans", said Stan Deal, chief executive of Boeing's commercial jet business. Looking at this new order of 500 jets, which will take at least a decade to be delivered, along with the earlier Vistara deal, it seems that Tata Group is carefully planning to win back a significant share of traffic flows to and from India, which are dominated by foreign carriers such as Emirates currently.
India is the world's fastest-growing airline market— 500 new jets would both replace and expand fleets, and serve a consumer base that continues to expand as more and more Indians look at flying as an affordable and convenient travel option.
Prime Minister Narendra Modi has often spoken of his government's goal to make India a $5 trillion economy. This deal would contribute to that.
Benefits for the USA  
Air India's order is Boeing's third biggest sale ever in dollar value and second in terms of the number of planes. This purchase will support over one million American jobs across 44 states, and many will not require a four-year college degree, Biden said, also
Boost to exports: A deal with Air India would mean that Boeing would be exporting its aircraft to India, which would contribute to the US balance of trade and help to support the country's overall economic growth.
Strengthened ties with India: India is an important trading partner and a strategic ally for the US, and a successful Air India Boeing deal could help to deepen the economic and political ties between the two countries.
Technology transfer: Depending on the terms of the deal, Boeing may be required to transfer technology and expertise to Air India, which could lead to further cooperation and collaboration between the two countries in the field of aerospace and other high-tech industries.
Benefits for France
There are no real substantive disagreements between the two nations. France has emerged as a key trading partner of India with annual trade of $12.42 billion in 2021-22. It is the 11th largest foreign investor in India with a cumulative investment of $10.31 billion from April 2000 to June 2022, which represents 1.70% of the total foreign direct investment inflows into India. And the recent Airbus deal with Air India would increase that.
Moreover, this deal speaks a lot about rising India's global ambition and an urge to maintain ties with every country irrespective of differences existing in the world. The deal is also important as India hosts G20 later this year and showcases India as an economically prudent and business-friendly nation.