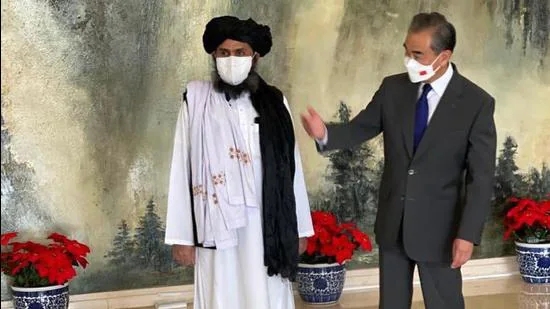 Sudden international political developments are happening in South Asia which has bilateral, regional and global ramifications, especially India . Until a few days back Taliban were pariah's of the world but now are getting recognized and legitimized by few nations for their narrow political interests. World knew when in Rawalpindi, Pakistan, Osama Bin Laden was exposed by American Seals and Pakistan sheltering Taliban leaders. Taliban who are in a medieval mindset with imposition of Sharia and Caliphate are a combination of Haqqani Network, LeT, HuM, JuD, Islamic State and Al Qaeda to name a few. They are also supported by Pakistan to capture Afghanistan with ISI and Army in Lead with Hospital to Air Cover.
Chinese State Councilor and Foreign Minister Wang Yi met Taliban political commission representative Mullah Abdul Ghani Baradar, few representatives from the religious commission and publicity alongside in Tianjin China this Week. Deal was Taliban have reiterated of not allowing any force to use the Afghan territory to endanger China. East Turkestan Islamic Movement (ETIM) who support independence from China, or any anti China forces will not be promoted in the future Taliban State. China said it wants to promote the peace process in Afghanistan and eyed a bigger role for them in future reconstruction of the war-torn country. China would back them in an international forum like they do for Pakistan.
China's border with Afghanistan starts in Badakhshan's province in northeastern Wakhan district with a 60-mile-long border. China did not have any issue with Democratic Afghan rule under President Ashraf Ghani. Once U.S. troops withdrawal started China was facing its biggest challenge to its authority at its border as the Taliban swept through the northeastern Badakhshan province, reaching the mountainous border with China's Xinjiang region. World knows that China had committed Cultural Genocide in Xinjiang. Names, Food Habits, Religion, dress, behaviors, were changed and vocational training and concentration camps were the order of the day with grave human rights violations until now.
Many of the Uyghur militants moved to Syria in recent years, last year's United Nations Security Council report estimated that some 500 members of ETIM remain in Afghanistan, mostly in the Registan and Warduj districts of Badakhshan province. The Trump administration last year removed ETIM's designation as a terrorist organization, to Beijing's fury.
China has a history of relations with the Taliban since the late 1990s. In 1999, a group of Chinese officials flew to Kabul and opened diplomatic and economic relations. China's ambassador to Pakistan sought a meeting with Taliban commander Mullah Omar in 2000. The Meeting happened with the Taliban hoping China would provide diplomatic support at the United Nations and help roll back sanctions placed on the group. Taliban reciprocally agreed to restrain ETIM in the country; but they did not expel the group. Starting in 2014, Taliban delegations began to publicly and regularly visit China, culminating in secret talks that China facilitated between Kabul and the Taliban in Urumqi, the capital of Xinjiang.
Why meet the Taliban now?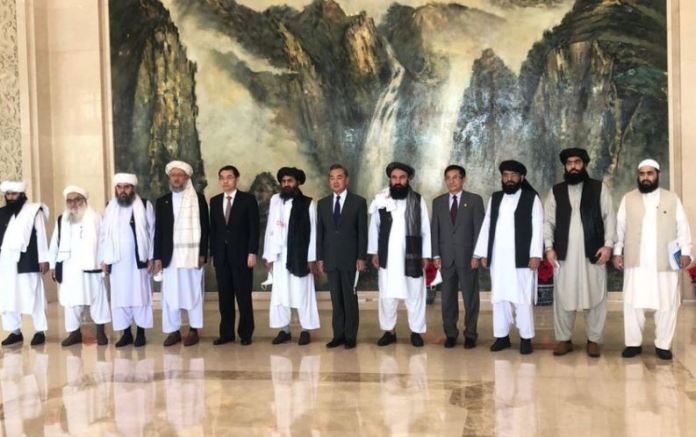 First, the Taliban is regaining power in Afghanistan and China is worried. Though China's clout in the region is growing, in part through Beijing's strategic relationship with the Taliban's main supporter, Pakistan. All other countries have condemned the mass incarceration of fellow Muslims in Xinjiang and other human-rights abuses there. Chinese State Councilor and Foreign Minister Wang Yi's visit to Turkmenistan, Tajikistan and Uzbekistan and the scheduled foreign ministers' meeting of the Shanghai Cooperation Organization (SCO)-Afghanistan Contact Group was to improve relations and trust there.
Second, central to Chinese worries in Afghanistan is that the country is once again becoming a haven for extremist groups with international ambitions like Al-Qaeda and the Islamic State. Beijing is particularly focused on Uyghur militants that have their sights set on China and could cross the country's 76-kilometer border with Afghanistan. Chinese analysts warned that if security threats in Afghanistan continue to spill over to neighboring countries, extremists and terrorists are more likely to enter China through Central Asian countries and Pakistan.
Third, beyond security, Beijing has longer-term economic aspirations in the country. Chinese firms are involved in the massive Aynak copper mine and exploration in the Amu Darya oil field. 
Fourth, China said it wants to promote the peace process in Afghanistan and eyes a bigger role for itself in future reconstruction of the war-torn country. 
Fifth, Afghan Ambassador to China Javid Ahmad Qaem expressed deep distrust toward the Taliban. "The sincerity of the Taliban for peace talks leaves a very big question mark upon them," Qaem said, adding that the biggest challenge to the political settlement is the Taliban itself.
Sixth, the rise of Taliban has become a headache for Russia as the Central Asian neighbors have started to militarize for any future attack by Taliban to extend its rule. Kremlin envoy for Afghanistan Zamir Kabulov expressed concerns about the escalation and tensions in northern Afghanistan. Kabulov also urged the Taliban "to prevent them from spreading beyond the country's borders." Russia shoulders the major responsibility for the security of Central Asia under the Collective Security Treaty Organization (CSTO), which includes Russia and five other former Soviet states.
Finally, one can say that though the Taliban has not gained any importance in Afghanistan till now, China with inputs from Pakistan is already talking to them and legitimizing their power. China's only goal is to save its engraved province and avoid the global glare on its grave human rights abuses and cultural genocide in Xingjiang. Any support from the Taliban to the local population can have a direct destabilizing effect on China. Some Western countries have described China's effort to engage in Afghanistan's reconstruction as the "next empire" to enter the "graveyard" of Afghanistan. For now China is playing a dangerous game along with Pakistan. Pakistan, an unfaithful nation of the world who took $30 Billion dollars from America to fight the Taliban instead supported it and killed NATO and US Forces. How come China is going with Pakistan and Taliban is the question? For now it is for China to be careful as they are playing with fire. The erstwhile USSR is an example.
(The opinions expressed are the author's own)