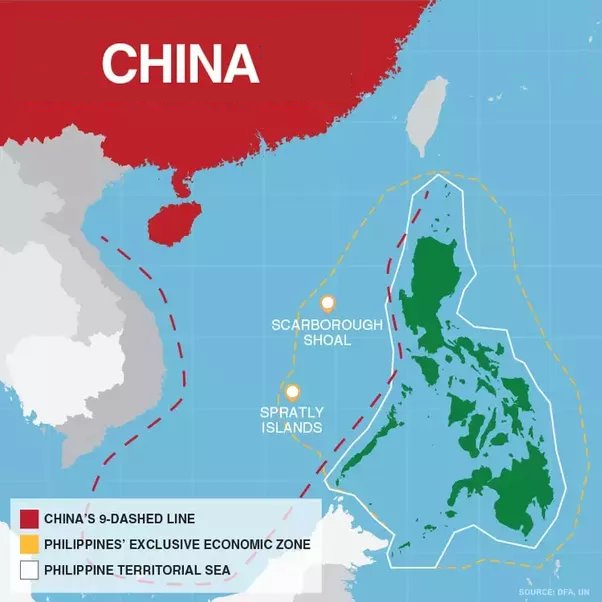 Manila has repeatedly accused Beijing of obstructing its shipping vessels in and around the Scarborough Shoal, a triangular reef encompassing a resource-rich lagoon that China seized from the Philippines in 2012.
The aggressive actions by the Chinese Coast Guard on a smaller Filipino Navy are indicative of a pattern of intimidation and coercion by Beijing in the South China Sea. 
President Ferdinand Marcos Jr. has taken a more assertive stance in highlighting China's actions of swarming and intimidating Philippine fishing and coast guard vessels. 
China has disputes with other nations like Indonesia, Vietnam and Brunei in the South China Sea over maritime boundaries, forced incursions and interference in oil and gas operations by the Chinese Coast Guard and navy.
In recent times, there has been a notable escalation in the tactics employed by the Chinese Coast Guard and Beijing's maritime militia, which have increasingly engaged in risky manoeuvres to obstruct and harass the Philippine Coast Guard and the Armed Forces of the Philippines during their crucial resupply missions to the BRP Sierra Madre located in Ayungin Shoal. The collision incident between two Coast Guard vessels on October 22 is just one example of the growing maritime confrontations. With tensions on the rise, the situation carries significant implications. It could potentially involve the United States due to its mutual defence treaty with the Philippines, along with other major naval powers.
What's the issue about
The recent action taken by the Philippines to dismantle a 300-meter floating barrier installed by China near the contentious Scarborough Shoal in the South China Sea, along with Beijing's warning to Manila not to provoke further tensions, highlights the delicate nature of the situation in one of the world's busiest maritime regions. Tensions have escalated in recent months between China, which asserts broad territorial claims in the South China Sea, extending well beyond its coast, and a more assertive Philippines.
Manila has repeatedly accused Beijing of obstructing its shipping vessels in and around the Scarborough Shoal, a triangular reef encompassing a resource-rich lagoon that China seized from the Philippines in 2012. When the Philippines became aware of China's efforts to establish a barrier preventing Filipino fishermen from approaching the reef, which had been fully accessible until 2012, President Ferdinand Marcos Jr. ordered its removal, despite the potential risk of escalating tensions with Beijing. Filipino Coast Guard personnel were dispatched to the Shoal, where they dived and severed the rope anchoring the buoy line.
This action by the Philippines underscores a broader trend among smaller countries in the region, including Malaysia and Indonesia, which also have territorial disputes with China. These countries are becoming increasingly assertive in asserting their maritime claims as China tightens its grip on the South China Sea.
The tensions surrounding the Second Thomas Shoal can be attributed to recent changes in the Philippines' approach to its disputes with China in the South China Sea. Since assuming office in June 2022, President Ferdinand Marcos Jr. has departed from the conciliatory stance adopted by his predecessor, Rodrigo Duterte. Instead, Marcos has taken a more assertive stance in highlighting China's actions of swarming and intimidating Philippine fishing and coast guard vessels. Concurrently, he has taken bold steps to strengthen defence ties with the United States, further straining China-Philippines relations.
Thomas Shoal Conflict
The Second Thomas Shoal has long been a potential flashpoint in the South China Sea conflict between the Philippines and China, especially since Beijing's control of Scarborough Shoal in 2012. What makes the Second Thomas Shoal unique, even within the complex context of South China Sea disputes, is its history. In 1999, the Philippines intentionally grounded a World War II naval vessel on a submerged reef within its exclusive economic zone. Since then, the Philippines has maintained a small contingent of Marines onboard under extremely challenging conditions.
According to international law, the reef has no recognised status, and if the ship were to sink, it would serve no practical purpose without an extensive campaign to construct an island on the submerged reef. In recent years, China has allowed the Philippines to resupply the Marines on board but has obstructed the delivery of materials for repairing parts of the ship. This situation underscores the unique and delicate nature of the tensions in the Second Thomas Shoal.
What China Stands to Gain
The recent aggressive actions displayed by a substantial Chinese Coast Guard vessel towards a smaller Filipino Navy supply vessel are indicative of a longstanding pattern of intimidation and coercion carried out by Beijing in the South China Sea. China asserts expansive territorial claims over the islands, reefs, and waters within the region, asserting the authority to control access by ships and boats from other countries. Under the leadership of Xi Jinping, this campaign of harassment has escalated, with China's significant fleet of coast guard vessels now serving as assertive defenders of Beijing's sovereignty. Many of these white-hulled ships are larger, better equipped, and more imposing than the grey-hulled naval vessels typically employed by most other Southeast Asian nations.
China, in its stance, refuses to acknowledge the rival claims of other states in the South China Sea, including those made by the Philippines. Furthermore, China persists in ignoring the comprehensive ruling made in 2016 by the Permanent Court of Arbitration in The Hague. This ruling, which stemmed from Manila's initiative, concluded that China's "nine-dash line" – the basis for Beijing's sovereignty claims over nearly the entire South China Sea – lacks any foundation in international law.
China continues to employ a well-coordinated strategy of low-intensity conflict, often referred to as "grey zone" actions, to assert its claims vigorously and push back against competing claims, all while avoiding the threshold of outright military conflict. Beijing's objective is to prevent open warfare in the South China Sea, especially concerning the Philippines, as Manila is a treaty ally of the United States. This approach, while not escalating to military conflict, has significant implications and creates a complex geopolitical landscape in the region.
China's dispute with other nations in the South China Sea
With Indonesia, the recent North Natuna Sea crisis from December 2019 to January 2020 involved Chinese vessels, including fishing boats supported by the coastguard and maritime militia, encroaching into Indonesia's exclusive economic zone (EEZ). These incursions have persisted, albeit with less public attention. China escalated the situation further in August 2021 when a Chinese survey vessel spent seven weeks conducting seabed mapping activities within Indonesia's EEZ. Jakarta has maintained a relatively restrained stance on the matter, with Indonesian navy and coast guard vessels observing the encroachments but seemingly instructed not to intervene.
China asserts "overlapping maritime rights" with Indonesia, based on a past 'informal understanding' reached with Jakarta regarding maritime territory in the 1990s. However, China's actions appear more strategic than legal, aiming to compel Jakarta to implicitly acknowledge its maritime rights. China's growing control over strategic South China Sea locations has emboldened its assertiveness.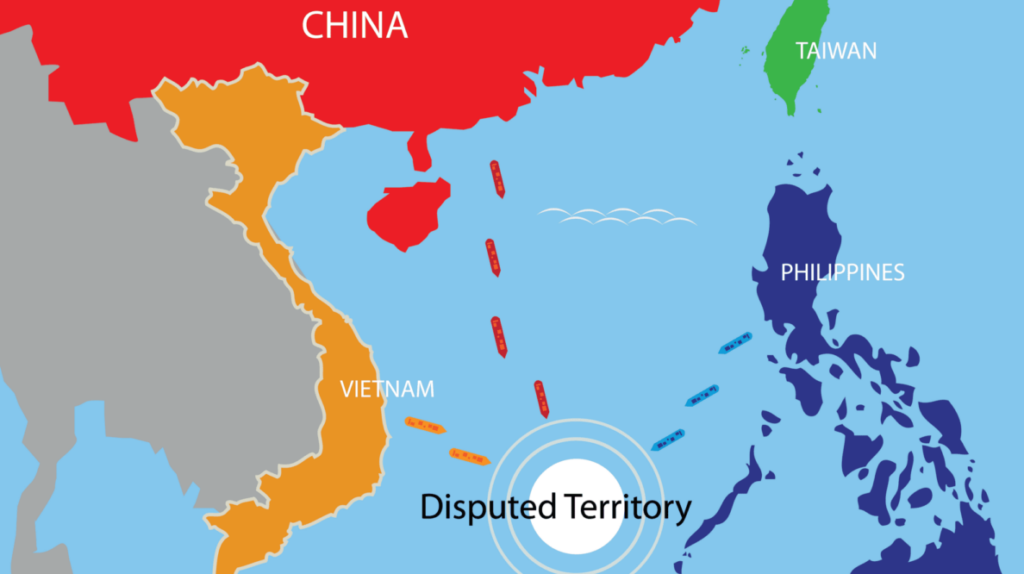 Indonesian policymakers face ambiguity in their objectives. Some doubt the feasibility of convincing China to abandon its 'nine-dash line' claims. President Joko Widodo leans toward crisis resolution to prevent strategic concerns from overshadowing domestic matters. Many consider China's actions as a law enforcement issue rather than a broader strategic problem, leading to a lack of clarity and a diluted response. Symbolic gestures, like holding cabinet meetings on warships, are used to project a show of sovereignty domestically.
With Vietnam, China's increased deployment of vessels into Vietnam's EEZ has heightened tensions in the South China Sea since early May. Chinese survey ships and fleets have intruded, with some now operating in sensitive Vietnamese waters. Vietnam's EEZ, stretching 200 nautical miles from its coast, is at the centre of these tensions. Chinese research, coast guard, and civilian vessels, along with interference in Vietnamese oil and gas operations, reflect Beijing's assertive stance in promoting its contested claims. Vietnam rejects China's "nine-dash line" and shares this sentiment among government officials and the broader public.
Brunei, the nation that has broken its silence on the South China Sea dispute, is typically considered a "silent claimant." Brunei released a rare statement advocating negotiations based on UNCLOS and international law. While emphasizing a commitment to regional stability, Brunei calls for bilateral discussions adhering to UNCLOS and international law. This "two-step approach" seeks to address South China Sea matters peacefully, with the other facet urging concerned countries to avoid escalating tensions in the region.
In the South China Sea, tensions are rising as China engages in provocative actions and manoeuvres that have raised concerns among neighbouring countries and major naval powers. The recent incidents involving the Philippines, Indonesia, Vietnam, and Brunei highlight the complexities of territorial disputes in the region.
These actions by China, from aggressive confrontations to incursions into exclusive economic zones, challenge the status quo and test the resolve of its neighbours. Each nation involved responds differently, with varying degrees of assertiveness and diplomacy.
The South China Sea remains a focal point of geopolitical tensions, and the delicate balance between enforcing maritime rights, preserving sovereignty, and maintaining regional stability poses significant challenges for the countries involved. As the situation evolves, the international community continues to watch closely, hoping for peaceful resolutions and adherence to international law to mitigate the potential for conflict in this vital maritime area.
(The author is a post-graduate student in International Relations at Kalinga University, Raipur. Views and opinions expressed are the author's own)