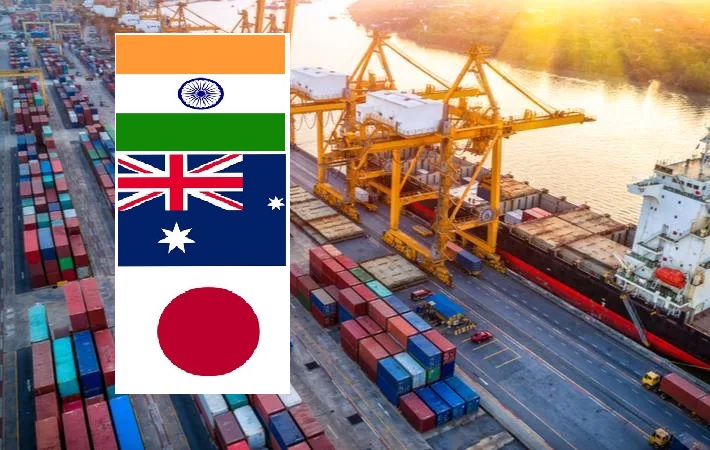 India, Australia and Japan formally launched the Supply Chain Resilience Initiative (SCRI) to build resilient supply chains in the Indo-Pacific region. The initiative launched on Tuesday 27th April, seeks to reduce dependence on China based supply chains.
India's Commerce and Industry Minister Piyush Goyal, Australia's minister for trade, tourism and investment Dan Tehan, and Japan's minister for economy, trade and industry Kajiyama Hiroshi held a ministerial videoconference Tuesday to launch the initiative. They have agreed that the SCRI could be expanded based on consensus.
"The SCRI aims to create a virtuous cycle of enhancing supply chain resilience with a view to eventually attaining strong, sustainable, balanced and inclusive growth in the region. The ministers consented that expansion of the SCRI may be considered based on consensus, if needed, in due course," the three trade ministers said in a joint statement.
With Covid-19 and trade tensions between China and the United States are threatening supply chains, Japan has mooted the Supply Chain Resilience Initiative (SCRI) as a trilateral approach to trade, with India and Australia as the key-partners.
The ministers noted the importance of risk management and continuity plans in order to avoid supply chain disruptions and affirmed their commitment to strengthen resilient supply chains. Possible policy measures may include: (i) supporting the enhanced utilization of digital technology; and (ii) supporting trade and investment diversification, said the joint statement by the ministers.
The SCRI will initially focus on sharing best practices on supply chain resilience and holding investment promotion events and buyer-seller matching events to provide opportunities for stakeholders to explore the possibility of diversification of their supply chains.
Reasons for SCRI
Covid-19: With the spread of Covid-19 globally, it has been realized that dependence over a single nation (China) is not good for both global economy and national economies. Further:
Assembly lines are heavily dependent on supplies from one country.
The impact on importing nations could be crippling if the source stops production for involuntary reasons, or even as a conscious measure of economic coercion.
USA-China Trade Tensions: The tensions began when the United States and China both applied tariff sanctions on each other. This resulted in delayed deliveries of many products manufactured in China to many countries across the world including India, Australia and Japan. Cost escalation was also a trigger.
Emerging Supply Hubs: India and other countries have emerged as supply hubs. The businesses in more developed Australia and Japan have started seeing India as a "hub for supply chains". The SCRI aims to utilise India's bandwidth with that of other smaller economies to create an alternate supply chain that is not dependent on one country.

Key Objectives
The initiative aims to reduce the dependency on a single nation (at present China).
SCRI is a direct response to individual companies and economies concerned about Chinese political behaviour and the disruption that could lead to the supply chain.
The SCRI aims to attract foreign direct investment to turn the Indo-Pacific into an "economic powerhouse".
It will also help build mutually complementary relationships among partner countries and build on the existing supply chain network.