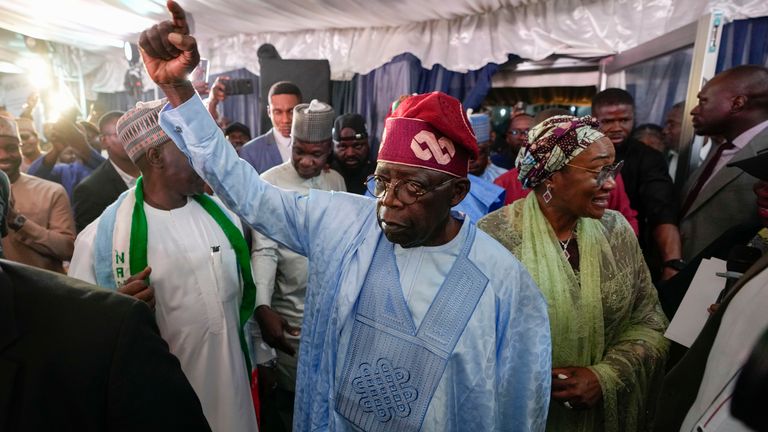 Nigeria's Presidential election concluded on 25 February 2023 when Bola Tinubu was elected as the president of Nigeria, drawing criticism from opponents like Peter Obi who said the election was not transparent. Despite this Nigerian election stands as a bright hope for Africa where coups and the absence of election have caused huge distress among Africans
Mr Tinubu, 70, Nigeria's president-elect, who as the candidate of the governing All Progressives Congress. Mr Tinubu, a canny, multimillionaire former governor of Lagos, Nigeria's biggest city, is a Muslim from the southwest and boasts that he brought Mr Buhari to power. His catchphrase, "Emi lo kan" — Yoruba for "It's my turn" — speaks to his record as a kingmaker in Nigerian politics, but alienates many young voters.
The elections will end President Muhammadu Buhari's two terms in office since his election in 2015 and will mark the first time that he is not engaging in a presidential poll since Nigeria's transition to civilian rule in 1999 – an important marker in Nigeria's trajectory of democratic consolidation. Nigeria's recently enacted Electoral Act has contributed to improved hope around the election process, reflected in the addition of 12.29 million new voters in Nigeria's voter registration exercise across the federation's 36 states and 1,491 constituencies.
Yet Nigeria stands at a critical juncture, having suffered from two recessions in the past six years, unprecedented levels of food insecurity, persistent fuel scarcity and high levels of crude oil theft. Civic fatigue also remains an important challenge and President Muhammadu Buhari's three main policy pillars of security, economy and corruption continue to be defining issues for citizens. Recently Bola Tinubu unveiled a manifesto for 'renewing hope' in Nigeria including his policy proposals for economic reform and revival and how to deliver secure and inclusive job opportunities for Nigerian citizens.
Nigerians queued in the sun and rain despite recurrent fuel crises, epileptic power supply, record inflation, and a painful cash crunch. Yet thousands of voters were disenfranchised, and multiple irregularities as well as intimidation and violence have been noted by election speakers. Less than half of eligible voters could participate in the elections despite the Commission's N305 billion-naira budgetary allocation. While Nigeria's youth seemed energized leading up to the elections, it seems their ability to turn out is still being hugely constrained by how difficult and potentially dangerous it is to cast a vote in Nigeria.
The INEC's performance and controversies over these results mean that the electoral reforms and lessons that have been learned were not fully appealed at just 25.7 per cent, the elections have the lowest recorded turnout of any election since Nigeria returned to democracy in 1999. These dwindling numbers highlight how Nigeria's politics and state institutions continue to exclude rather than include.
The commission's patchy deployment of technology in the use of a Bimodal Voter Accreditation System (BVAS) is still being intensely scrutinized and criticized. It failed to adhere to its own statements and guidelines, which derive from its laws, that election results would be uploaded to its portal using the BVAS directly from the polling unit in real-time for the public's viewing.
Having just 23 per cent of the public's trust going into the 2023 election, the need for strict transparency by INEC in this crucial phase of electronic results transmission cannot be overstated and should not be put down. The INEC's sub-optimal performance must be taken seriously because Nigeria's path to recovery and stability must follow the way of accountability and electoral integrity.  
India and Nigeria's relations
Soon after Bola Tinubu won the election, PM Modi tweeted, "I congratulate H.E. Mr Bola Ahmed Tinubu for winning the Presidential elections. Look forward to further strengthening India-Nigeria bilateral relations under your leadership."
India and Nigeria enjoy warm, friendly, and deep-rooted bilateral relations. India established its Diplomatic House in Lagos in November 1958, two years before Nigeria became independent on 01 October 1960. Presently, India is Nigeria's largest trading partner and Nigeria is India's largest trading partner in Africa. The Bilateral trade volume between Nigeria and India has touched USD 15 billion for the financial period 2021-2022 which represents an increase of 69.80%.
Bilateral Trade and Investments
The Nigerian Government took steps to diversify the Nigerian economy with a focus on the agriculture and mining sectors. Nigeria has recently signed the African Continental Free Trade Area (AFCFTA) Agreement which was postponed due to the COVID-19 Pandemic. Despite the constraints on trade relations in the country due to the coronavirus, the overall India-Nigeria trade and commercial relations remain buoyant and steady.
India is its largest trading partner in Nigeria and Nigeria is India's largest trading partner in Africa. The total bilateral trade between India and Nigeria during the year 2021-22 registered USD 14.95 billion, as against USD 8.81 billion during the year 2020-21. Indian exports to Nigeria during the period 2021-22 were USD 4.66 billion, as against USD 3.13 billion in 2020-21 representing an increase of 48.75% of India's exports. India's imports during the period 2021-22 recorded USD 10.29 billion, against USD 5.67 billion in 2020-21, representing an increase of 81.43 % of India's imports. ( As by MEA, India data )
India is the largest importer of Nigerian petroleum products. Out of total India's imports of USD 10.29 billion from Nigeria, crude oil accounted for USD 10.03 billion. In recent years, Nigeria has been one of the main sources of crude for India. Nigeria emerged as the fourth largest supplier of crude oil and LNG to India in 2020. It is informally estimated that there would be around US$ 19.3 billion of investment by Indian companies in Nigeria. ( As by MEA, India data )
FDI inflows from Nigeria to India from April 2000 to June 2019 were valued at around USD 14.50 million. The investment by Nigeria has been made in construction, textiles, hotel & tourism, and drugs & pharmaceuticals. In view of the wide-ranging opportunities, recent initiatives like Make in India, Ease of Doing Business, Start-up India and a liberal FDI regime there is a large potential for investment between the two countries. ( As by MEA, data )
Agriculture: Due to high inflation, Nigerians will spend more of their income on food commodities and food investment is the number one in the priorities of households in Nigeria. Any investment made in agriculture in Nigeria will yield a huge return of up to two digits. Nigeria's agro exports value has grown by 15% in 2022. Cocoa, Cashew nuts, Coconut, Ginger, Frozen Seafood, Brazil nuts in shells, Natural cocoa butter, Cocoa beans, Sesame oil and its fraction, Palm nuts and kernels are expected to top Nigeria's agro-export list as they have remained on top over the years. ( As by MEA, India data )
Energy: Nigeria's Energy Transition Plan (ETP) launched by the Federal Government on 24 August 2022, with the aim to establish the country's strategy to reach a net-zero emissions energy system by 2060, would require funding of about USD 1.9 trillion up to 2060. Nigeria's energy sector accounts for about 65% of the country's total greenhouse gas emissions. With this lens, a critical analysis of the Nigerian ETP reveals additional and complementary actions that could be taken to realize a net zero emissions energy system. Complementary actions needed to realize Nigeria's Energy Transition Plan may include the following: Identify (and support) low-carbon energy solutions that work for low-income Nigerians, Innovation in natural gas infrastructure development, Modernize biomass utilization, Improve energy efficiency in small and medium enterprises (SMEs), Focus on natural carbon removal solutions, Explore strategies for an integrated energy system, Incentivize change in transportation choices, Reduce dependency on foreign climate finance, Harmonize climate-related policies. ( As by MEA, India data )
When sworn in, Bola Tinubu will inherit a country made weaker economically, less secure, and diminished in stature under the leadership of his party. This also gives him an opportunity to perform well in a turbulent situation, and it's an opportunity for New Delhi to not only continue the ties but also rejuvenate and further engage with Nigeria and Africa.