The G20 presidency provides an opportunity for India to expand its significance and emerge as a worldwide leader of peace, collaboration, and progress.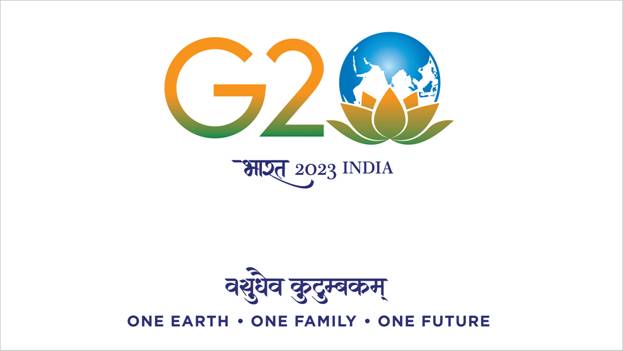 "The G20 is taking place in the larger context of geopolitical crisis, food and Energy insecurity, slow progress of SDGs (Sustainable Development Goals), mounting debt burden and challenges to climate action and climate justice. Our endeavour is to build consensus within the G20, champion causes, especially of the Global South, and shape the setting of the agenda."

– Dr S Jaishankar, MEA
India extended its fullest support during Bali's summit which was widely appreciated by Indonesia who is the current member of the Troika, recognising India's effort for its success and finding a common ground with each member country under a polarised environment has now taken the baton as the current President of the G20, the premier forum for global economic cooperation and policy guidelines, as of December 1st 2022, following Indonesia's President Joko Widodo. The country will host 215, G20 meetings across 56 locations, bringing delegates from different countries to visit this vibrant and diverse nation. With robust public finances, soaring marketing and export trajectories, resolute climate leadership, and sound macroeconomic fundamentals, India is set to showcase its development and propose its models as potential solutions to the world as part of the G20's mission to address global economic challenges collectively. However, just like how the G20 was formed in a time of detriment during the wake of the Asian Financial Crisis the road ahead for India is full of challenges, including the Ukraine conflict and the COVID-19 pandemic, which threaten the global economy, disrupted supply chains, need for reform in Multilateral institutions, pose challenges to climate action and other various challenges. India aims to address global economic challenges with a special focus on macroeconomic implications of food and energy insecurity, climate change, financing inclusivity, equitable and sustainable growth, digital public infrastructure, and climate financing and to expose the various charmer the country possessed in terms of culture, tradition, diversity and democracy[1]. The G20 is comprised of 19 nations and the European Union under the support and coordination of the Troika. As the current President of the G20, India faces a great challenge in addressing the multifaceted challenges for member nations and guiding the group toward a 'People's G20' for a post-pandemic world.
Bestowed with the title of the largest democracy and fastest-growing major economy, India continues to be an essential participant in the G20. Since the beginning of the G20, India has been actively involved in the G20 preparatory process, including the Sherpas Track and the Financial Track. As the 2023 G20 presidency holder, India is expected to build on the significant accomplishments of the previous 17 presidencies and contribute to the global economic and financial system's stability. India's involvement in the G20 stems from its acknowledgement of the significance of cooperative action and comprehensive collaboration among major developed countries and emerging economies across the world.
Several nations in the global south have been left deprived of any proper representation in global organisations, resulting in minimal economic progress, financial disparities, poverty, social inequality, and a widening digital gap. As a result, the world is falling short of the United Nations' Sustainable Development Goals (SDGs). Recent geopolitical developments, such as the Taliban's takeover of Afghanistan and the conflict between Ukraine and Russia, have worsened the existing economic and humanitarian issues. Furthermore, geopolitical divisions continue to intensify, with western nations viewing Russia as a threat and China as a strategic competitor and concerns over Chinese muscle-flexing and the recrudescence of the Covid crisis in China, and north-south divisions among its developed country members. Issues such as climate financing, technology transfer, debt relief, liquidity provision, and democratizing reforms of multilateral institutions are at the forefront of these divisions, including quota reforms in the Bretton Woods institutions. These geopolitical divisions highlight the ongoing north-south divide between developed and developing countries.
The primary goal of the G20 has always been to recognise the significance of collective action and global collaboration among major developed countries and emerging economies throughout the world. The G20's importance stems from the fact that its members account for more than 85% of worldwide GDP (Gross Domestic Product), two-thirds of the world's population and 75% of global trade, and, making it a critical participant in assuring global economic growth and prosperity.
For the first time, the G20, comprises a Troika consisting of only developing and emerging economies Indonesia, India, and Brazil, setting up a platform for the Global South to amplify their voices and raise their agendas. The Bali Summit, which focused on food and energy security, pandemic response, and climate change preparedness, addressed the concerns of developing countries and set a target of USD 100 billion for climate finance to benefit these nations. The Indian Presidency is continuing this trend, despite facing opposition parties that could pose challenges to achieving significant outcomes.[2]
For India, the G20 is an opportunity to shed its image as an emerging middle power with untapped potential and advance toward its aspirations of becoming a superpower. With China and Japan being major powers, India seeks to narrow the gap with these nations, particularly with Japan as an influential "like-minded" partner with its own global or Asian superpower ambitions.
India's Agenda
India's G20 chairmanship centres around the theme of 'One Earth, One Family, One Future,' encapsulating the ancient Sanskrit ethos of 'Vasudhaiva Kutumbakam.'[3] While the theme may be subject to various interpretations, India aims to project its power while pursuing its foreign policy goals and interests. The G20 Presidency marks the beginning of "Amritkaal," a 25-year period that starts from the 75th anniversary of India's independence and leads up to the centenary of its independence. As the chair of the G20, India aims to promote inclusive and sustainable growth, strengthen global cooperation, and address challenges such as climate change and the COVID-19 pandemic and the fragmented world order.
India's G20 Presidency seeks to advance a human-centric approach to globalization that the Prime Minister expects will have a significant influence on policy discussions and shape the post-pandemic economic agenda for a New World Order. The Prime Minister of India is determined to make India's presidency inclusive, ambitious, action-oriented, and steadfast. India's G20 aims include boosting development towards sustainable development goals (SDGs), encouraging technological innovation, and strengthening multilateral institutions for the twenty-first century. The country is also dedicated to attaining rapid, inclusive, and robust growth, as well as fostering ecologically friendly development and empowering women. By emphasizing these priorities, India hopes to have a lasting impact on the global community. During India's G20 Presidency, discussions will focus on various priority areas, such as inclusive and sustainable growth, achieving the SDGs, promoting green development and lifestyle for the environment (LIFE), public digital infrastructure, reforming multilateral financial institutions, and fostering international peace and harmony.
India not being a newcomer to the preparatory process in both the Sherpas Track and the Financial Track. In order for India to realise its priorities for this troika, the finance as well as the sherpa track has been prepared in such a way that it encompasses all the objectives for the current presidency. The Finance Track will concentrate on significant concerns such as infrastructure financing, healthcare financing, financial sector policies, and sustainable growth through eight working groups. The Sherpa Track will focus on thirteen issues, including anti-corruption, agriculture, the digital economy, and climate change. In addition, the Sherpa Track will include two initiatives – G20 EMPOWER, which aims to promote women's leadership in the private sector through partnerships with business leaders and G20 countries, and RIIG (Research and Innovation Initiative Gathering), which aims to enhance research and innovation collaboration among G20 member countries.[4]
UPI – A mechanism to promote public digital infrastructure
The government Demonetization initiative was taken in 2016 and paved way for the increment in the cashless Economy. As the world was grappling with the pandemic India announced the Unified payment Interfaces (UPI). Today India has recorded the highest amount of cashless transactions in the world as the success blooming in its premises, India has identified UPI as one of the main attractions in its effort to promote digital public infrastructure for economic transformation, financial inclusion and development as one of the main agenda in the G20 summit. India's aimed to promote its UPI transaction tool and to create a less fee or no fee in cross-border transactions which will facilitate many Indians as well as people around the world. The National Corporation of India (NPCI) managing director has also recently stated that "India could offer the codes and technologies free of cost to interested countries across".[5] Recently, Singapore emerge as the first foreign state to link its payment system with UPI the real-time payment system which will eventually increase cross-border connectivity a significant positive impact on India's agenda of globalisation at the time of the ongoing G20 summit and assist India's best-in-class digital payment Infrastructure.
Vision "Destination Northeast India"
"It's not something that is just going to be done in the capital city or even in two or three metropolises. We are going to take it across the country to more than 55 cities. We are going to make sure that the diversity of every region, every culture, every local cuisine and local product will be on display to the world."

– Dr. S Jaishankar, MEA
The recent developmental projects and the adverse increment in the infrastructural built as well as the increase in budget allocation across the North-Eastern states have resulted in tremendous development across the North-Eastern states of India. For India, the G20 has accounted not only a diplomatic event but a tremendous opportunity to highlight its hidden treasures and rich cultural legacy which eventually suits the North-Eastern states and also attracts tourism.
The government has decided to form a tourism task force for the North-East state with the help of DoNER (The Ministry of Development of North Eastern Region) and other Ministries where around 100 viewpoints have been developed to promote tourism. Given the chance, India has a high chance to expand the tourism industry concurrently and attract various private Industries leading to an increase in employment and other activities which will boost the state's economy.[6]
Northeast A region with a captivating geostrategic location is also considered as an absolute paradise for nature lovers. The facilitation of the G20 summit will immensely enhance many development and exposure to the diverse culture of the Northeast and hopefully increase the tourism aspects and recognition of its existence which has been hidden. In the recent past, the Govt. of India has been trying to promote its vision of "Destination North East India." Where G20 could lead the government vision to a larger extent and provide extravagant progress.
LiFE (LiFE for Environment) initiative
"Mission LiFE borrows from the past, operates in the present and focuses on the future"

– PM Narendra Modi
The notion of Accelerating Sustainable Development Goals (SDGs) and leading the world to adopt an eco-friendly sustainable lifestyle through LiFE (Life for Environment) will be other significant priorities in the next few months.
The LiFE initiative, launched by the Prime Minister of India at COP26, aims to encourage sustainable lifestyles and reduce carbon emissions. According to the IEA (International Energy Agency), the adoption of LiFE measures would reduce annual global CO2 emissions by over 2 billion tonnes in 2030, save consumers globally around USD 440 billion, and lower inequalities in energy consumption and emissions between countries.[7] The LiFE initiative could be reinforced and aligned with the G20's energy transition framework during India's G20 Presidency. While LiFE emphasizes sustainable consumer choices, it doesn't replace the necessity of robust policies for clean energy technology expansion. India's G20 leadership presents a valuable opportunity for countries to learn from LiFE's strategies in mitigating climate change, air pollution, and expensive energy costs.
Conclusion
With India's G20 Presidency in full swing, the summit would fairly and significantly assist in its dialogue on the various economic and political agendas it has set forth to achieve. At a time of fragmented world order, the international community expects India to address these issues and provide a significant way to recover and organise the varied fragmentations, bridge the gap between developed and developing countries, and gather multilateral institutions to move into a more efficient global centric, rather than western-centric, in their applications.
Being the world's fifth-largest economy, India has expressed interest in a wide range of foreign industries and has been recognised as the fastest-growing major economy.
With its leadership, India can contribute to bridging systemic and ideological divides and drive consensus on critical reforms of international organisations such as the United Nations, World Bank, and IMF (International Monetary fund). India can offer proven solutions and be a transformer of the Global South on issues such as social justice, digital transformation, climate and environmental activism, and pandemic and disaster relief by showcasing various leads in its region, from digital public goods to its vaccine policy to Atma Nirbhar Bharat (self-reliance), its robust public finances, marketing and export trajectories, climate leadership, and sound macroeconomic fundamentals. The G20 presidency provides an opportunity for India to expand its significance and emerge as a worldwide leader of peace, collaboration, and progress.
(Leivon Victor and Kevin Khyriem research students at the Department of Political Science, St. Joseph's University, Bengaluru. Opinions expressed are the author's own.)
---
[1] Puri, L. (2023, January 7). India's G20 Presidency: Forging global solidarity. The Indian Express. https://indianexpress.com/article/opinion/columns/indias-g20-presidency-challenges-global-solidarity-8366260/
[2] Times, H. (2023a, January 27). Challenges to India's G20 Presidency and Effectiveness of G20 Framework. Hindustan Times. https://www.hindustantimes.com/ht-insight/economy/challenges-to-india-s-g20-presidency-and-effectiveness-of-g20-framework-101674814886719.html
[3] Logo & Theme. (n.d.). https://www.g20.org/en/g20-india-2023/logo-theme/
[4] India's G20 Presidency – Vision for a New, Inclusive Worl. . . (n.d.). Invest India. https://www.investindia.gov.in/team-india-blogs/indias-g20-presidency-vision-new-inclusive-world-order
[5] Express News Service. (2023, January 10). G20 event India to start UPI transactions with Singapore, Dubai this year: UIDAI adviser. The Indian Express. https://indianexpress.com/article/cities/kolkata/g20-event-india-to-start-upi-transactions-with-singapore-dubai-this-year-uidai-adviser-8371714/
[6] A, D. (2022, November 18). India's presidency begins Dec 1: Centre looks Northeast for hosting G20 meets; Aizawl, Itanagar on list. The Indian Express. https://indianexpress.com/article/india/indias-presidency-begins-dec-1-centre-looks-northeast-for-hosting-g20-meets-aizawl-itanagar-on-list-8274848/
[7] LiFE lessons from India The benefits of advancing the Lifestyle for Environment (LiFE) initiative through the G20. (2022). IEA Report.