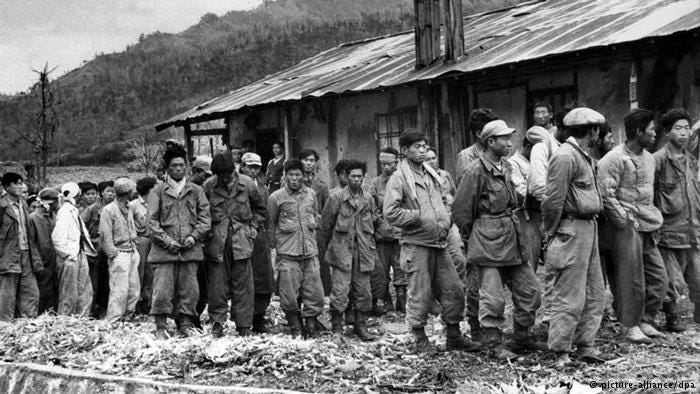 South Korea announced its solution to a WWII-era labour compensation dispute with Japan on Monday as momentum builds on both sides toward mending bilateral ties that have soured over the long-standing issue. The solution centres on a government-backed South Korean foundation paying compensation to Korean plaintiffs instead of requiring two Japanese firms to do so as South Korean court rulings had ordered.
The moves reflect an eagerness on the part of President Yoon Suk Yeol, who took office in May last year, to improve relations with Japan amid heightened missile threats from North Korea, as well as calls for better ties from South Korean businesses.
Yoon was quoted as saying, "The announcement of a solution for the forced labour ruling amid difficulties is a decision to step into a future-oriented relationship with Japan."
For South Korea-Japan ties to enter a new era, both governments should strive for future generations to play the main role," Yoon said, according to presidential office spokesperson Lee Do Woon.
South Korean Foreign Minister Park Jin told a press conference he hopes to develop "future-oriented relations" with Japan, based on the two nations' joint declaration in 1998, saying that ties should not remain "stalled" any longer.
Background to the South Korea-Japan Forced Labor Issue
In 1997, two South Korean plaintiffs filed suit in Japan against Nippon Steel Corporation for forced labour that occurred during World War II when Japan ruled over Korea. They argued that they were recruited under false advertisement, were not paid their due wages and were subjected to unsafe working conditions. The lower court dismissed the suit in 2001, and the Japanese Supreme Court denied the final appeal in 2003. The courts held that, while the company (described here as "Old Nippon Steel," later reorganized into Nippon Steel) mistreated the plaintiffs as they described, Nippon Steel did not carry Old Nippon Steel's liability. The courts added that, in any case, the plaintiffs' claims were extinguished by the 1965 Claims Agreement. The plaintiffs later pressed the same claims in South Korea, where lower courts in 2009 also dismissed the suit, citing the Japanese rulings and the expiration of the statute of limitations.
Since 2001, the Japanese government has reiterated its courts' argument regarding the victims' claims. The government asserts that under Article I of the Claims Agreement, Japan was required to provide South Korea with $300 million in grants and $200 million in loans and that under Article II, the problem concerning "property, rights and interests" as well as "claims" between the two countries and their nationals were "settled completely and finally" and no contention could be made regarding those claims. Some scholars have noted that the scope of these claims also encompassed the eight items explicitly raised by South Korea during the Claims Agreement negotiations, one of which related to "amounts receivable, compensation, and other rights of claim of drafted South Korean workers."
However, in 2018, a court decision quickly created a fissure in bilateral ties. In July 2019, Tokyo imposed tighter export controls on chemicals used by South Korean manufacturers to produce semiconductors and removed South Korea from its "white list" of preferred trading partners. Although Japan attributed this move to security concerns based on South Korea's "inadequate management" of the chemicals, then-Japanese Prime Minister Shinzo Abe admitted that the 2018 court decision was the primary reason. South Korea countered with its own measures, including dropping Japan from its white list, initiating dispute resolution proceedings at the World Trade Organization over the export controls and threatening termination of the bilateral General Security of Military Information Agreement.
It remains unclear, however, whether the plan will finally resolve the dispute and head off a domestic backlash, with opposition parties and supporters of former Korean labourers demanding the Japanese side offer a fresh apology and compensates plaintiffs.
Lee Jae Myung, a representative of the liberal Democratic Party, called the solution a "secondary victimization" for the South Korean plaintiffs, who have been asking for a sincere apology and compensation from Japan. The government's solution to forced mobilization announced today effectively neutralizes the 2018 Supreme Court ruling that recognized the illegality of colonial rule and liability for anti-humanitarian illegal activities by war criminal companies," the group said, adding that the administration is forcing victims to make sacrifices again and trampling on their human rights and dignity.
The Japanese government welcomed the announcement and said it stands by past government statements that expressed remorse over Japan's wartime aggression in Asia. To accommodate Seoul's request for a voluntary "sincere response," Tokyo will allow Japanese firms to donate to the South Korean foundation.
In response to the South Korean solution announced Monday, the Japanese government plans to lift restrictions on semiconductor material exports to South Korea imposed in July 2019 and to return the country to a "white list" of trusted trading partners that receive preferential treatment. In separate rulings in 2018, South Korea's Supreme Court ordered machine manufacturer Mitsubishi Heavy Industries Ltd. and steelmaker Nippon Steel Corp. to pay damages to former Korean labourers and their relatives over forced labour during World War II.
But the two companies refused to comply as the Japanese government has said all issues that stemmed from Japan's 1910-1945 colonization of the Korean Peninsula were settled "completely and finally" under a 1965 bilateral agreement.
The plaintiffs moved to liquidate the Japanese companies' seized assets in South Korea to attain compensation, and decisions by South Korean courts in 2021 ordering their sale heightened concerns in Tokyo over the repercussions and propelled Seoul to look for an alternative solution before the sale took place.
The government's solution to forced mobilization announced today effectively neutralizes the 2018 Supreme Court ruling that recognized the illegality of colonial rule and liability for anti-humanitarian illegal activities by war criminal companies," the group said, adding that the administration is forcing victims to make sacrifices again and trampling on their human rights and dignity.
Confronting Common Security Challenges
North Korea's Kim Jong Un appears committed to advancing his military capabilities, eroding the sanctions regime, and weakening the U.S. alliance relationships with South Korea and Japan. The North's actions in recent months—brazenly conducting multiple missile and weapons tests, showing off a potentially nuclear-capable submarine, hurling invective at Moon and Abe, and refusing to engage in nuclear negotiations with Washington—are obvious and urgent reminders for Seoul and Tokyo get along. Letting the current trade row get in the way of progress on North Korea, which gladly exploits such fissures in regional ties, presents a real security risk to Japan, South Korea, and the stability of the East Asian region.
Finally, Japan and South Korea shouldn't lose sight of countering China's growing influence and aggressiveness in the region. They don't have to look too far back in history to see examples of Beijing's willingness to use its clout to punish its neighbours. In 2017, Beijing targeted a range of South Korean industries to punish Seoul's decision to deploy a U.S. missile defence system; the South's tourism industry alone suffered a loss of nearly $8 billion. But when Russian and Chinese bombers last month flew over the disputed islets that Tokyo calls Takeshima and Seoul calls Dokdo, Japan and South Korea squabbled over who had the right to issue warnings to the intruders, rather than persuasively countering the provocative move. Seoul's jettisoning of the intelligence-sharing agreement this week has weakened the security relationship shared by the two countries. Chinese leaders have made it clear that they are willing to use coercion to drive a wedge between Washington and its allies in East Asia—to the detriment of the economic and security environment for Seoul and Tokyo—and it would behove Yook and Kishida to separate problems of the past from the challenges of the present.
The tension surrounding the past is unlikely to go away anytime soon. Additionally, it will be difficult for either country to recover from the trust they lost due to their recent actions. And even if Yook and Kishida temporarily reconcile, grievances and underlying tensions undoubtedly will resurface. But to mitigate the impact of these all-too-frequent flare-ups, so easily manipulated by opportunistic politicians.
Hence, both countries must focus on their shared interests, challenges, and values. They must enable problem-solvers at the local, national, governmental and non-governmental levels. This would go a long way toward building an infrastructure—and attendant habits—of cooperation.
(The author is a post-graduate student in International Relations at Kalinga university, Raipur. The opinions expressed are the author's own)