The recently established deal between Iran and Saudi Arabis could reduce tensions in the region but also asserts China's growing influence in the Middle East.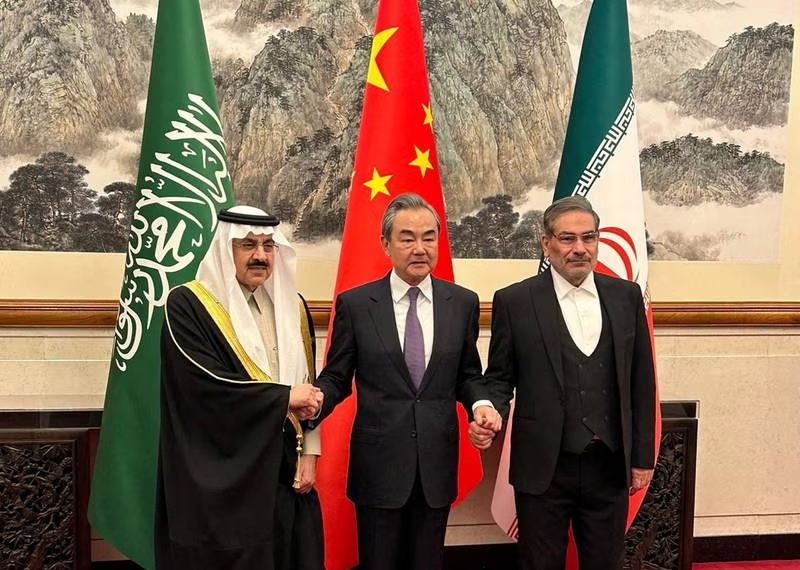 Regional rivals Saudi Arabia and Iran announced on Friday they are restoring full diplomatic relations in a deal brokered by China, a move that could reduce tensions in the region and asserts China's growing influence in the Gulf.
The agreement paves the way for Saudi Arabia and Iran to reopen their embassies and diplomatic missions within the coming two months. It also revives accords on security cooperation and trade and investment. Moreover, in their joint statement, the two countries affirmed their "respect for the sovereignty of states" and "non-interference in internal affairs of states," language underscoring Saudi Arabia's concerns about Iran's Revolutionary Guard, a shadowy force that oversees sectarian Shia militia proxies in the region.
The decision by Iran and Saudi Arabia to resume diplomatic ties and exchange ambassadors builds upon quiet engagement that's been ongoing for years and significant growth in trade between the two countries in 2022. More than anything, however, it reflects Saudi Arabia's desire to lower the temperature with Iran. Despite all of the reporting about growing security and commercial ties, and possible normalization, between Saudi Arabia and Israel, Riyadh's fundamental and sole strategic focus is the diversification of the country's economy away from hydrocarbons. To accomplish that, Riyadh views its security as paramount to ensure that oil drilling, transport, and sales aren't disrupted and that the country is seen as a secure place for long-term foreign direct investment. Both of those could easily be undermined by Iranian or Iranian proxy attacks—a likelihood reduced by this agreement.
The White House said the Saudis kept the U.S. informed of the talks and that it welcomes any moves that de-escalate tensions in the region. Countries around the Middle East and the United Nations' secretary-general responded positively to the news.
This agreement comes seven years after ties between the regional heavyweights were ruptured when the Saudi embassy in Tehran was ransacked by Iranian protesters angry at a mass execution of 47 people in Saudi Arabia. Among those executed in 2016 was Saudi Shia cleric Nimr al-Nimr, a prominent figure who'd led protests against the government demanding greater rights for the large Shia minority in the Sunni Muslim-led kingdom.
What's the impact on regional security?
This agreement could reduce tensions that had spiked dramatically, culminating in a stunning missile and drone attack on Saudi Arabia's oil facilities in 2019. That attack led to the suspension of more than 5% of the world's daily crude oil production. The United States and Saudi Arabia accused Iran of sponsoring the attack — an allegation denied by Iran.
By 2021, Saudi Arabia and Iran began engaging in discreet lower-level direct talks, hosted by Iraq and later Oman. This agreement elevates that dialogue so that the two countries foreign ministers can meet. In Yemen, Saudi Arabia is seeking a permanent cease-fire and a way out of a yearslong war against the Iranian-backed Houthi militia there. The resumption of ties with Iran could reduce weapons shipments to the Houthis and help wind down the war in Yemen.
Improved ties between Saudi Arabia and Iran could additionally impact the long-running civil war in Syria. The Saudi kingdom has long supported Sunni groups battling against Syrian President Bashar Assad's government, which itself is supported by Iran and Russia. That war has ground to a stalemate in large parts of Syria as more Arab states look to reestablish ties with its regime. The agreement could also reduce sectarian tensions in parts of the Middle East and as far as South Asia. Iran and Saudi Arabia have been vying for leadership in the Muslim world since Iran's 1979 revolution, which elevated hard-line Shia clerics to power. In recent years, Saudi Arabia has curtailed the influence of ultraconservative Sunni clerics in favour of Crown Prince Mohammed bin Salman's social reforms. Still, the kingdom has continued to execute Shia protesters allegedly found guilty of violence and maintains control of Islam's holiest site in Mecca, giving it religious sway.
What does it say about China's role?
China's role in this agreement emerged with the deal's announcement on Friday from Beijing following four days of talks between Iranian and Saudi officials there. China was able to play this role because it has maintained ties with both countries and purchases oil from both OPEC member states, despite U.S. sanctions on Iran. Iran's president recently visited China.
China also has strong relations with Saudi Arabia as its top buyer of oil. Chinese President Xi Jinping was warmly received in the kingdom in December on a high-profile visit that showcased Beijing's ambitions to expand its influence in the Gulf, a region traditionally seen as a close U.S. security partner.
Yu Jie, a senior research fellow at Chatham House, a think tank in London, described the announcement as a major diplomatic win for China.
"Countries in the region do not want to choose between the two great powers," she added, referring to the growing rivalry between China and the U.S. She said China was able to claim credit for the deal because of its "noninterference principle" in the Middle East. For example, China does not raise human rights concerns in conversations with Arab leaders.
How could this affect U.S. policy and interests in the Gulf?
Although President Biden has tried to revive Iran's tattered nuclear deal, the agreement has steadily unravelled since former President Donald Trump unilaterally withdrew the U.S. from it.
Relations between Washington and Tehran have grown more strained in past months amid U.S. allegations that Iran is supplying Russia with drones for Moscow's war in Ukraine and following Iran's suppression of protests sparked by the death of a young Iranian woman in the custody of security forces last year. (Iran later acknowledged providing drones to Russia.)
In recent weeks, a security meeting between U.S. and Gulf officials in the Saudi capital of Riyadh underscored shared concerns about the reach of Iran's missiles and drones and its nuclear program. Saudi Arabia maintains ties with Russia, but the kingdom's foreign minister recently visited Ukraine's capital of Kyiv and the kingdom pledged $400 million in humanitarian aid there. The kingdom relies heavily on the U.S. for its defence and weaponry, despite strains in the bilateral relationship over human rights concerns in Saudi Arabia and long-running concerns among Gulf Arab states about the U.S. commitment to their security.
Shared concerns over Iran and a sense among Gulf Arab states that the U.S. is an unreliable security partner pushed countries like the United Arab Emirates and Bahrain to formalize ties with Israel. It's unclear how this Chinese-brokered agreement could impact the Biden administration's efforts to persuade Saudi Arabia to establish full ties with Israel.
White House National Security Council spokesperson John Kirby said the U.S. continues to watch China "as they try to gain influence and footholds elsewhere around the world in their own selfish interests." But he said the administration welcomes the deal regardless of the impetus or who sat down at the table, particularly if this agreement can be sustained and lead to an end to the war in Yemen.
(The author is a Post Graduate student in International Relations at Amity University, Raipur. She writes articles and research papers regularly on international affairs and geopolitics)
References:
https://www.atlanticcouncil.org/blogs/new-atlanticist/experts-react/experts-react-iran-and-saudi-arabia-just-agreed-to-restore-relations-with-help-from-china-heres-what-that-means-for-the-middle-east-and-the-world/