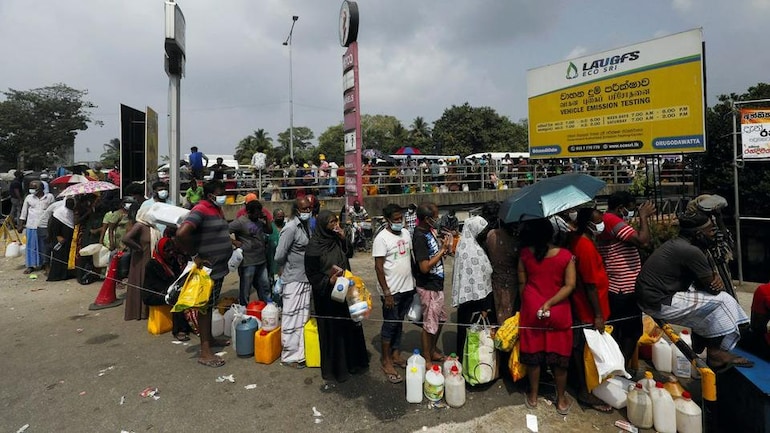 "Migration expresses the human aspiration for dignity, safety and a better future. It is a part of the social fabric and our very make-up as a human family." – Ban Ki-moon
Moving to another territorial entity from one's homeland is often viewed positively. Nonetheless, given the current world order, lessons and impact cannot be understood without mentioning the prevailing crises in different countries. One such case is Sri Lanka's current Economic and Political Crisis. Being atrocious, it resulted in a total amount of economic migration. It was, for sure, their pressing priority as Sri Lankans to resort to nothing but migrating to foreign nations to sustain themselves. Their humongous debt and forex catastrophe acted as the crux of this crisis. It was influenced by several factors, as stated below, and the myriad migration that has happened left behind the world astonished. Concocting a gist of this large-scale migration that is being undertaken to tackle economic inadequacies, achieve a better standard of living, and aspiration to acquaint their lives with basic quality amenities, education, and political steadiness, is the objective of this study.
BACKGROUND
Sri Lanka, formerly known as Ceylon, is an island country, geographically located in the Indian Ocean in  South Asia. It is separated from the Indian peninsula by Palk Strait. Since it was under British rule, Colombo emerged as a leading urban centre and has been the country's executive and judicial capital. 1
Today, this tiny island country is well-known across the world for its unprecedented economic and political crisis. It is now facing the worst financial crisis since its independence in 1948. The ongoing massive turmoil, which has resulted in crippling the lives of over 22 million (as of September 2022) people inhabiting the country can be deemed a consequence of two vital aspects. 2
Firstly, the grave scantiness of food, fuel, cooking gas and drugs gave rise to their foreign exchange crisis. The foundation for all these shortages was laid during the Covid-19 pandemic. Adding fuel to the fire, thousands of Sri Lankans working as labourers in a number of West Asian countries were forced to leave during the first wave of the pandemic. This, in turn, became a financial shortcoming for such families. In the year 2021, the Sri Lankan Foreign Exchange Reserves were said to have fallen to $1.6 billion. The forex reserves continued to tumble in the year 2022, and this time it was a humongous $2.31 billion, which also intended the amount of international debt it's liable to repay, which came up to around 7 billion dollars the same year. Due to this, their import bill reached $21 billion; the trade deficit was $10 billion in 2021-22.
The government also implemented policies which proved a significant threat to the country, such as imposing a ban on importing chemical fertilisers and switching to domestic organic fertilisers, which collapsed the agricultural sector by yielding minor produce. To tackle food scarcity, they ended up importing food supplements. The nation witnessed an extremely high inflation rate crossing 50% from January to June 2022 as shown in the figure below. Unfortunately, this also resulted in the cancellation of exams due to the shortage of papers in the country. Schools were shut, and the working population was asked to switch to work from home to save on necessities. The Russian-Ukraine war also impacted Sri Lanka at a crucial time. Sri Lanka relies on these two nations for tourism and imports almost half the quantity of wheat and oil from them. All the above causes, along with others, were highly responsible for the resultant imbalance in the foreign exchange rate of Sri Lanka.
Secondly, it is the debt crisis which indeed is the root cause of the current crisis. Records estimated that the country has a total foreign debt exceeding $51 billion and needs to repay around $ 28 billion by 2027. It had approached the International Monetary Fund (IMF) several times to borrow monetary loan assistance. Sri Lanka's inability to repay the billions of loans it had borrowed can be considered quite intuitive, given the apparent reasons for the implementation of policies promised by the party in power during elections and the instability of the economy of the country before the pandemic, when there was a budget surplus in the past few decades. While some rightly note that Chinese involvement in Sri Lanka has steadily increased over recent years, talk of China instigating 'debt trap diplomacy' in Sri Lanka is romanticised, as per the persuasive deconstruction done by academics such as Deborah Brautigam. In Sri Lanka, as elsewhere, domestic economic problems have domestic origins. 2 Hence, owing primarily to these two reasons, this crisis is nothing less than a dreadful state for all Sri Lankans. 
ECONOMIC MIGRATION DURING THE CRISIS
Economic migration refers to the condition of economic unfavourability, which results in the migration of individuals from one entity to another. It concerns labour standards, unemployment, and a country's financial state. The factors which create a need for economic migration are higher wages, better employment opportunities, a higher standard of living and educational opportunities. 3
Experts have observed a particular migration pattern in Sri Lanka during this crisis. Historically, migration in Sri Lanka can be categorised into four major phases, and the current one is very penetrating. The above historical background broadly covers the reasons for the same. According to the data put forth by the Sri Lankan Government, the number of passports which were issued this year during the first five months was 2,88,645 passports in comparison with 91,331 in the same period last year, as shown in the graph below. H.P. Chandralal, an employee of the Department of Immigration and Emigration who oversees the authorisation of most passports applications, said that they receive an average of at least 3000 applications for passports every day, of late. Actually speaking, their current Prime Minister, Ranil Wickremesinghe, warning people that a food crisis is just a couple of months away, prompted people to migrate for economic needs and to sustain themselves and their families which otherwise is an uphill struggle if they choose to stay there. Since the remittances have drastically fallen, in fact, halved, the government is now encouraging people to go abroad and get employed, which will in turn boost remittances.
Nevertheless, a few of the contemporary and essential factors which influence economic migration now include :
High prices of basic amenities and fuels
High inflation rate (on an average exceeding 33%)
Slow and steep economic growth / low GDP
Limited transportation
Closure of private and public firms, schools and other vital institutions
Rapid currency depreciation
Grave scarcity of food, fuel and drugs
A need to improve the standard of living
Various factors like political instability, fall in the local production of crops, and others.
The following are two particular and concise case studies of Sri Lankan citizens who aspire to migrate for financial and other reasons, constituting the population who insist on the importance of economic migration.
R M R Lenora – Lenora is a 33-year-old garment worker who planned to fly to Kuwait to work as her husband had to drop her off from a small restaurant where he was a cook, due to an unprecedented increase in the costs of fuel, gas and food supplies, despite which his salary was meagre and did not see any considerable increment, as needed. To lead a life with just 2,500 Sri Lanka rupees ($6.80) a day, which she earned, couldn't suffice to raise her two children and sustain her family. The week before her interview, she had fled to Colombo to submit papers for their first passport, where she found labourers, farmers, public servants, shop owners and housewives. Some of them had camped there for 2-3 days as the demand for the same shot up. It is also said that around three individuals lost their lives grappling for fuel, grappling in the long queues. All were desperate to flee away, given the worst economic crisis the country had experienced in its seven decades of independence. Lenora is keen on working in Kuwait for two years, making enough dollars to get back home to battle the survival crisis and, most importantly, educate her daughters.
Chandra Kumar – Auto driver Chandra Kumar had planned to leave for Singapore, where he managed to get an excellent job in a luxury hotel. It took two long months for him to get his passport. He had to resort to migration due to an extreme financial crisis at home, which led to him selling his family jewellery to survive. The apparent reason was the hike in fossil fuels' prices, which as an auto driver he could afford and get access to, once in a week or two, snatching away his job. Inflation has had a significant impact on his family, like the rest, which led to a considerable increase in the prices of daily needs; for instance, rice was priced at ₹250 per kg. It proved an obstacle concerning his children's education as schools were shut down, and they had switched to online classes, further burdening the family with more expenses (additional mobile data charges). 5
Hence, the above cases complement the previously mentioned factors that influence economic migration. Nonetheless, the fact that Sri Lanka could ace Asia Cup 2022 despite the nation undergoing such a crisis is an accolade that deserves worldwide appreciation. This also shall bring in approximate prize money of INR 1,59,53,000 as a title triumph for the nation, which will undoubtedly be of some help. On a general estimate by CNN News 18, India, Saudi, Kuwait, and Malaysia were the migrant destinations majority of these immigrants had planned to migrate to for stable economic gains. More than 100 Sri Lankans had entered India illegally via the Rameshwaram in Tamil Nadu by boat. Therefore, the current condition in the country has resulted in driving people away from home due to a deepening economic crisis.
IMPACT ON INDIA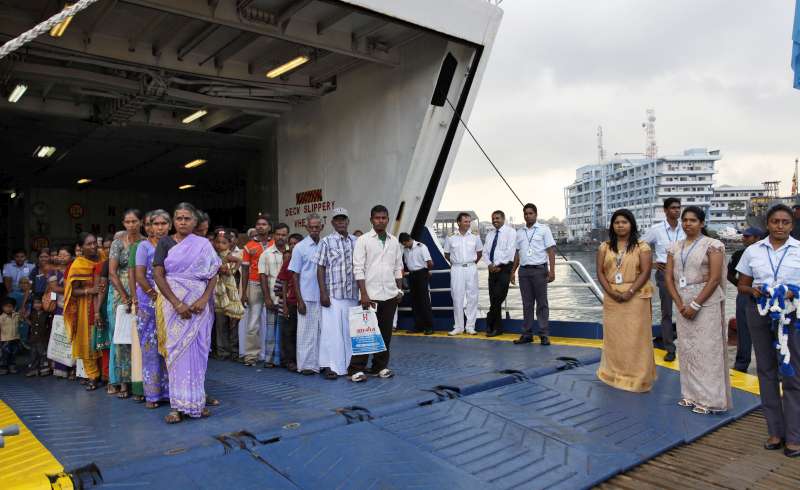 India, Sri Lanka's neighbour with which the state shares umpteen similarities, is geographically in its close vicinity. Although India did her bit by advancing a loan of $5 billion, of which $3.8 billion was granted in 2022 alone, she extended her helping hand by sending in aid packages comprising metric tons of necessities like rice, medicines and milk powder. In addition, in February 2022, both these neighbours signed an agreement for a $500 million supply of fuels from the Indian Oil Company based on a credit line, which further was expanded by $200 million in April 2022. 6
On humanitarian grounds, India has been maintaining refugee camps where migrated Sri Lankans sought habitation for many decades. Similarly, apart from financial and package aid, the Government of India has taken into consideration the plight of these immigrants and relocated many numbers around Tamil Nadu. As per N Sathiya Moorthy, an expert on the Sri Lankan economic crisis, "India does not have a refugee law in place as it is not a signatory to the 1951 UN Convention relating to the Status of Refugees and the related protocol." Despite this drawback, India has housed lakhs of Sri Lankans upholding humanity and hundreds of them right now. India has no formulated refugee laws, and this, perhaps, has revealed that void of the Indian government to act legitimately for their assistance. Yet it has now been impacted much more with illegal migrants travelling to India using the nearby sea routes with bogus passports and has been known to have indulged in human trafficking for livelihood. For the same, a few have been allegedly booked under the Passport Act and the Foreigners' Act, leading to more hollowness of Indian outlook on human rights violations and imprecise law and order. India needs to restore its security and bilateral ties with Sri Lanka not to let it affect the former's economic stability in the long run.7
Jeopardization of indigenous culture is a note-worthy negative impact, affecting India's diversity, with many migrants practising and propagating their customs and traditions, brought from their homeland.
The fundamental thought is that as the population, in this case, refugees, in a nation or territory increases, more will arise a scarcity of resources, services and jobs, leaving the locals behind without fulfilling their needs. This may be justified by how the number of Sri Lankan migrants openly outnumbers the population of several villages in India itself. The fact that these migrants are here to toil hard, to take back home money, is a golden opportunity for the industrialists to have cheaper labour. This goes hand-in-hand with the Lankans' need to work extra hours for their needs. This is precisely why migration is always encouraged and followed up by industries with a hard-core capitalistic approach. Jeopardization of indigenous culture is a note-worthy negative impact, affecting India's diversity, with many migrants practising and propagating their customs and traditions, brought from their homeland.8  
Thus, amongst a number of consequences of Lanka's economic migration that affect India, the major ones are as above and they are pivotal as per the international system point of view. Moreover, the idea that terrorist groups may take this situation for granted and enter India for the vengeance they have fostered against her is a matter of contention and a disturbing conundrum.
POSSIBLE WAY OUT
According to Gravitas 9, the prime-time show of the WION media channel, one of the most trivial methods is Sri Lanka seeking a bailout from the International Monetary Fund (IMF), which would be the 17th time it would be approached by the international monetary body asking for a loan. Although this won't help in clearing such a lumpsum amount of foreign debt, it can bring in more foreign investments and tourism and boost the country's economy from scratch. Once the IMF grants the loan, the country will see significant changes in the economic structure like cutting down subsidies, increasing interest rates, track down expenditure that is going into vain as this body is capitalistic and propagates liberalisation and privatisation. This option though seems helpful, is nothing less than a double-edged sword.
Sri Lanka must focus on the formulation of rational, people-centric reforms, direct taxes on big bulls, encourage entrepreneurship, establish more State-Owned Enterprises (SOEs) and become an export-oriented nation.
Instead, the Rajapaksa brothers chose to rely on bilateral package loans, as a part of which they borrowed loans from India, Bangladesh and China, complying with the saying, "Band-aid on a bullet wound, but it requires a major surgery." The Lankan ruling government should consider passing bills and policies that benefit and take the country towards sustainability instead of implementing unplanned reforms. The former is the short-term solution, whereas the latter seems like a solid long-term solution to tackle this crisis.
The following are the possible solutions to battle this crisis and put an end to it:
Formulation of rational, people-centric reforms, that are liberal and saying no to bureaucrats' unscrupulous, hasty and covetous demeanour to hoard illegal money by passing laws and bills without farsightedness.
Direct taxes need to be levied on big bulls of the economy instead of making the petty unorganised sector, and ordinary people pay from their pockets. Less than 2% of the government revenue comes through direct taxes, which only equals 2% of the country's GDP. This system needs to be scrutinised to escape its inadequacy and regressive nature.
Encouraging entrepreneurship in the country is the dire need of the hour. This would accelerate economic growth from the grassroots level by increasing employment opportunities. It seems that only 3% of Sri Lankans are entrepreneurs, which is a dismal number in relation to the rest of the countries.
The government should consider establishing more State-Owned Enterprises (SOEs) to get hands-on better fiscal discipline and not invest much in privatising these enterprises as that would ultimately benefit only the private sector rather than the public themselves.
Lastly, Sri Lanka should focus more on exports and become an export-oriented nation. It should inculcate a free trade policy and reduce the cost of raw materials to facilitate exports which proves beneficial, especially to the export-based companies. It should consider signing and getting into international ties/treaties with not only its neighbours but also extend its scope to far-off nations to enhance its economy by exporting its signature products. Initiating innovation and feasibility within the domestic markets will increase exports to a considerable extent.
CONCLUSION
In conclusion, the recovery of Sri Lanka from this crucial crisis can neither be fast nor easy, and that is unequivocally a verity, bearing in mind the transformation the country needs to go through. Nevertheless, this process of working on the revival of the Sri Lankan economy and bringing about political stability can be achieved only by the people's decision to decide on an efficient government that shall genuinely work for the collective good of the country. Further, this would create an amicable circumstance for the countrymen to settle in the nation, utilising opportunities to improve their standard of living by contributing directly to the amelioration of their economy, leading to a fall in the economic migration of the Lankans. Well, the fact that this would take quite a long time to accomplish essentialities to be taken cognisance of, and believe in the process of slow yet stable betterment.
(Divya R Reddy is a Scholar at the Department of Political Science, St. Joseph's University (SJU), Bengaluru, Karnataka)
References: