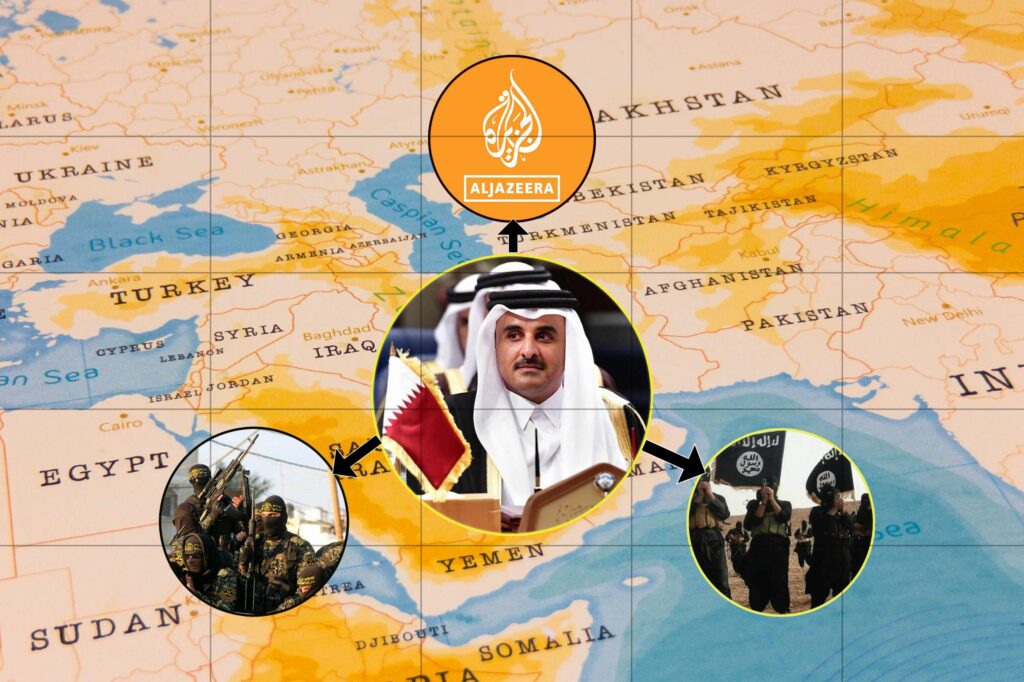 Qatar has been accused of supporting Islamic terror groups, including ISIS and al-Qaeda by providing political and financial backing.
Qatar is also accused of giving diplomatic cover to Islamic terror organisations and utilizing the influential 'Al Jazeera' media network to push a pro-Islamist narrative across the world.
Some analysts claim that Qatar's support for groups like Hamas is part of its strategy to counter the progressive and moderate Islam approach championed by Saudi Arabia.
Qatar has pursued a nuanced geopolitical approach, seeking to position itself as a significant influence in the Islamic Ummah. Noteworthy developments involve the conviction of eight former Indian Navy officers, sentenced to death on charges of espionage for Israel regarding advanced submarines. The Qatari intelligence service detained these officers, associated with a private company, in Doha last year.
Understanding Qatar's motives requires an exploration of the geopolitical dynamics at play. Qatar has systematically fostered ties with China and Pakistan, exemplified by Qatar Energy's recent 27-year deal to provide liquefied natural gas to China's Sinopec. Additionally, reports suggest that Doha has invested a considerable $9 billion in Pakistan since 2019.
Qatar's aspirations extend to becoming a representative force for the global Ummah (Islamic community). In pursuit of this goal, it has adopted a multifaceted strategy, which includes supporting certain Islamic groups. This approach stands in contrast to the more progressive approach endorsed by Crown Prince Mohammed bin Salman of Saudi Arabia and Sheikh Mohamad bin Zayed of the UAE, both of whom are among the wealthiest and most influential figures in the Muslim world. UAE, India, Israel, and the USA have formed the I2, U2 Alliance, aiming to promote regional cooperation and diplomacy. Saudi Arabia was supposed to normalize ties with Israel by signing the Abraham accord and joining the proposed India-Middle East-Eastern Europe Corridor (IMEC) at the G20 summit earlier in New Delhi. Additionally, Turkey and Iran are also vying to be recognized as global voices within the Ummah, leveraging their historical and civilizational background.
In 2017, Qatar faced a diplomatic rift with several Arab countries, including Bahrain, Saudi Arabia, the United Arab Emirates, Egypt, Yemen, Libya's eastern-based government, and the Maldives. These nations accused Qatar of destabilizing the region by allegedly supporting Islamic terror groups, including the Islamic State (IS) and al-Qaeda. Qatar has been criticized for providing political and financial backing to Islamist organizations, offering them resources, and diplomatic cover, and utilizing the influential 'Al Jazeera' media network as a platform to push a pro-Islamist narrative across the world.
One of Qatar's significant assets in this geopolitical landscape is the Al Jazeera Media Network (AJMN). Established in 1996, this Qatari state-owned media conglomerate acquired the BBC's Middle East Bureau and its Arabic channel. Launched in 1997, Al Jazeera has been accused of supporting various Islamist groups, such as Al Qaeda, ISIS, Osama bin Laden, the Taliban, the Muslim Brotherhood, and Al Nusra. Critics claim that it broadcasts the messages of rebels and terrorists, inciting further unrest and rebellion, while also opposing regimes that act against radical Islam.
Qatar has established deep political, financial, and military ties with numerous Islamic rebel groups worldwide, providing it with substantial influence over an extensive network of independent terrorist fighters. This influence enables Qatar to exert pressure on groups perceived as hostile to its interests or not aligned with its objectives. Some experts argue that Qatar has become a hub for Islamic Jihad, as exemplified by the relocation of Hamas, founded in 1987, to Doha. This move was seen as part of an effort to collaborate with ISIS fighters and pursue regime change in Syria, as the then regime benefitted the interests of the United States and Israel.
Furthermore, Qatar functions as a hub for international conferences related to radical Islam. With one of the world's largest natural gas deposits, the nation has aligned itself with the United States and invested substantial resources in securing its protection. Qatar has committed significant funds, with a total investment of $8.4 billion, to host a US forward military base at Al Udeid and contributes substantially to its operational expenses. As a result, Qatar holds the designation of a 'major non-NATO ally.'
By maintaining comprehensive strategic ties with China and extensive military connections with the United States, Qatar wields substantial soft power and influence. This influence became evident in 2020 when the United States and the Taliban signed an agreement in Doha aimed at ending an eighteen-year war in Afghanistan. This agreement led to the withdrawal of US troops from Afghanistan on August 15th, 2021. Meanwhile, Hamas leader Ismail Haniyeh enjoys a lavish lifestyle in Qatar. Qatar's hosting of the 2022 FIFA World Cup was also marred by reports of human rights abuses of migrant workers.
These events collectively suggest that Qatar seeks to exercise its influence by potentially fomenting unrest in the Middle East. Some analysts claim that Qatar's support for groups like Hamas, with reported direct financial contributions of $400 million over the past five years, may be part of a broader strategy to counter the progressive and moderate approach championed by Saudi Arabia, which aims to make Islam more acceptable and promote progress within the Muslim world. The recent death penalty sentences handed to former Indian naval personnel must be seen as one of Qatar's moves to establish its dominance over the Islamic world.
(The author is a post-graduate student in International Relations at Kalinga University, Raipur. Views and opinions expressed are the author's own)