The full potential of the India-Israel relationship is yet to be realized, and there are many more areas other than defence in which India and Israel can work together in the coming years.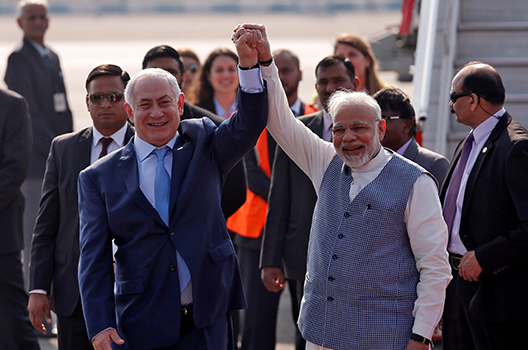 As coterminous democracies, India and Israel gained independence in 1947 and 1948 respectively, the trajectory of their bilateral ties has not been smooth till the cold war era (it being in the USA block), but during post cold war they set to become 'natural allies'. The very distinct history of Israel and its settlement in the Muslim world created different sorts of geopolitical realities after the Second World War. The entwined Palestine in this circumstance has been one of the prominent determiners of Israel's relationship with any country.
India's policy towards Israel has been intimately linked to India's support for the Palestinian cause and the impact India- Israel relations have on India-Arab Relations. India was the first non-Arab country to recognize the Palestine Liberation Organization (PLO) as the 'sole legitimate representative of the Palestinian people', and later gave the PLO office in New Delhi full diplomatic recognition. In keeping with this approach, India joined the Arab countries in opposing the partition of Palestine, and it was only in 1950, two years after Israel came into existence, that India granted de jure recognition to the State of Israel. Soon after, Israel established an immigration office in Bombay which was later converted into a Trade Office and subsequently a Consulate. However full diplomatic relations were established only in 1992 (after the cold war) and the Embassies were opened.
It was not till 1992 after the Middle East Peace Process at Madrid in 1991 between Israel and the Arab States had begun, and the break-up of the Soviet Union had changed the geopolitical balance decisively in favour of the US, that India felt emboldened to exchange diplomatic Missions with Israel. Since then, however, relations have rapidly grown in all fields, especially in the military field. Israel has emerged as a significant and reliable source of defence supplies and advanced sensitive defence technologies, second only to Russia.
India particularly appreciated Israel's willingness to supply military equipment and ammunition during the Kargil operations in 1999 and Operation Parakram (launched in the wake of December 13, 2001, terrorist attack on Parliament, it was the first full-scale mobilization since the 1971 Indo-Pak war) in 2002.
Critical Perspectives of Indo-Isreal relationship
Modi government has ended Delhi's obsession with viewing the region solely through the prism of the "Arab-Israeli conflict". No nation in the Arab world is making Israel the touchstone of relations with the rest of the world. This change can be seen in terms of the confident engagement of Israel in India's geostrategic calculation.
Even though India's defence, security and economic relations with Israel have been on the upswing since the 1990s, the Modi government has been credited with elevating the strategic dimension and introducing focus, direction, and substance in the India-Israel partnership by bringing relations "out of the closet." Under his leadership, New Delhi not only expanded the scope of the India-Israel strategic partnership but also moved towards abandoning the traditional "balancing act" between Israel and the Arab World (Palestine).
A hallmark of the Modi government's foreign policy has been a self-confident assertion of Indian interests. This is reflected in the government's moves vis-a-vis Israel, marking a distinct break from the unnecessary and counterproductive diffidence of the past. Despite sharing more than 25 years of diplomatic ties and working closely on defence, counter-terrorism, agriculture and energy-related issues, no Indian Prime Minister or President has ever visited Israel.
The domestic political milieu continues to exert its substantial influence on the trajectory of India-Israel relations. Israel has been a good friend of India but New Delhi continues to be shy about demonstrating its friendship. At crucial times, when India needed Israeli help, it got it unreservedly. Such help must be recognized to come closer.
The terrorism that both India and Israel face come not only from disaffected groups within their territories; it is also aided and abetted by neighbouring states, increasingly capable of transferring weapons of mass destruction to terrorist organisations. Such a similar situation creates an imperative for both to come together and show exemplary toughness.
However, the focus of the Indian President's speech in Israel during his visit in 2015 was India's economic and technological cooperation with Israel, while in Palestine and Jordan, he said New Delhi remained committed to the Palestinian cause, indicating that India does not plan on abandoning its traditional support for Palestinian statehood. This policy is reminiscent of the ideological trappings of India's West Asia policy. At a time when the strategic partnership between India and Israel has emerged well above the traditional Defence and trade relations, the President's comments indicate that domestic politics and ideological inhibitions still underscore the Israel policy. India's preoccupation with viewing Arab-Israeli relations through the prism of the Palestinian issue adds another dimension to New Delhi's indefinite regional policies. Arab-Israeli relations have undergone a shift and so, the imperative of 'balancing' its West Asia policy need not be cast in the traditional mould. However, there has been some change in India's policy towards Palestine. While India continues to express its support for the Palestinian cause, it has simultaneously toned down its reactions to Israel's treatment of Palestinians. It has also begun denouncing Palestinian suicide bombings and other terrorist acts against Israel, something that was seen earlier as justified in light of the Israeli policy against the Palestinians.
It is increasingly evident that such re-evaluation has been based on a realization that India's largely pro-Arab stance in the Middle East has not been adequately rewarded by the Arab world. India has received no worthwhile backing from the Arab countries in the resolution of problems it faces in its neighbourhood, especially Kashmir. There have been no serious attempts by the Arab world to put pressure on Pakistan to reign in the cross-border insurgency in Kashmir.
On the contrary, the Arab nations have firmly stood by Pakistan, using the Organization of Islamic Conference (OIC) to build support for Islamabad and the jihadi groups in Kashmir. If Arab nations, such as Jordan, have been able to keep their traditional ties with Palestine intact while building a new relationship with Israel, there is no reason for India not to take a similar route, which might give it more room for diplomatic manoeuvring.
Nevertheless, according to C. Raja Mohan, a prominent Geopolitical commentator, the NDA government understands the sensitivities involved with Palestine and is also acutely conscious of India's expansive stakes in the Arab Gulf- as the principal external source of India's energy imports, the most important destination for India's labour expatriate labour and a major market for India's goods. He is also aware of the significance of the partnership with Iran in securing India's interests in Central Asia and the stabilization of Afghanistan after the withdrawal of American troops from there.
In this light, the government has denied assertions of a "fundamental departure" from its support of the Palestinian cause. Moreover, when President Pranab Mukherjee visited Israel, he visited Palestine too. And he did devote considerable energy towards reiterating India's "unwavering" support of the Palestinian cause and commitment to "work with all like-minded nations for the amicable resolution of this protracted conflict".
However, India's ability to separate the Palestinian issue from Indo-Israeli relations could be tested in the future. As the security situation in Israel and the Palestinian territories deteriorate and Israel faces greater international pressure to negotiate an end to the conflict, it may not be long before Tel Aviv turns to New Delhi for diplomatic support. India may, therefore, be compelled to take a more definitive stance on the conflict which it has, up until now, avoided.
The ongoing competition and conflicts in West Asia have reaffirmed the need for a new and robust approach to promoting regional security. The depth and variety of India's interests in West Asia do not countenance an either-or approach to the region where we can seek to build ties with one party at the expense of the other. Again, the turmoil in the region, in which most of the givens of the past are being challenged in an environment of sharp competition, makes it urgent that all stability be pursued vigorously.
Way Forward
P2P contact: Despite increasing bonhomie between the two states, people-to-people contact still lacks. Increased citizen engagement will give further depth to the relations between the two countries.
Bigger trade volumes: Though the trade volumes between the two countries have been increasing year on year, still it's much below their potential level. FTA should be executed soon and the trade basket must expand.
Striking balance: Though Israel comes across as a natural partner, India should also be concerned about the human rights issues in Palestine. So far, India has been able to balance its geostrategic needs and international morality.
China and Israel: Of late China's engagement has been continuously growing with Israel primarily for the latter's technology. India should be proactive in evolving its partnership with Israel from hereon.
India and Israel share a special multidimensional, multidisciplinary, and comprehensive relationship, characterized by pragmatic diplomacy and trust. Differences on some issues still exist, but they are not unbridgeable. India and Israel have strong joint international cooperation schemes and can explore and undertake joint ventures in different fields in countries like Maldives, Sri Lanka, Myanmar, and Afghanistan, where both countries have interests.
There are many more fields in which bilateral cooperation will benefit both countries. A widespread perception exists that Indo-Israel relations are based on the military and security perspective, but the base is much broader and it will expand into more sectors in the future. The full potential of the India-Israel relationship is yet to be realized, and there are many more areas in which India and Israel can work together in the coming years.