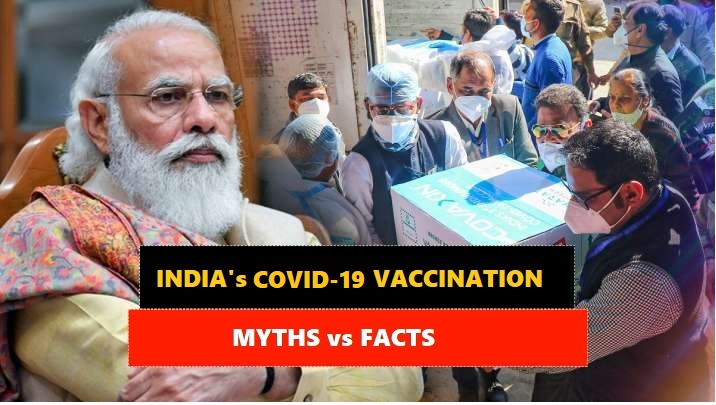 The Government of India has said that several myths being spread over India's Covid-19 vaccination program are due to distorted statements, half truths and blatant lies. Dr Vinod Paul, Member (Health) in NITI Aayog and Chair of the National Expert Group on Vaccine Administration for COVID-19 (NEGVAC) has issued a statement in this regard giving a pointwise rebuttal to several myths.
Here are the excerpts from the statement put out by Dr Paul.
Myth 1: Centre is not doing enough to buy vaccines from abroad
Fact: The Central Government has remained engaged continuously with all the major international vaccine manufacturers right from mid-2020. Buying vaccines internationally is not similar to buying 'off the shelf' items. Vaccines are in limited supply globally, and companies have their own priorities, game-plans and compulsions in allocating finite stocks.
Myth 2: Centre has not approved vaccines available globally
Fact: The Central Government has proactively eased entry of vaccines approved by US FDA, EMA, UK's MHRA and Japan's PMDA, and WHO's Emergency Use Listing into India in April. These vaccines will not need to undergo prior bridging trials.
Myth 3: Centre is not doing enough to ramp up domestic production of vaccines
Fact: The Central Government is playing the role of an effective facilitator to enable more companies to produce vaccines from the early 2020. There is only 1 Indian company (Bharat Biotech) which has the IP. GoI has ensured that 3 other companies/plants will start production of Covaxin apart from enhancing Bharat Biotech's own plants, which have increased from 1 to 4. Additionally, the three PSUs will together aim to produce upto 4.0 Cr doses by December. GoI and vaccine manufacturers have worked as one Team India in this mission with seamless engagement on a daily basis.
Myth 4: Centre should invoke compulsory licensing
Fact: Compulsory Licensing is not a very attractive option since it is not a 'formula' that matters, but active partnership, training of human resources, sourcing of raw materials and highest levels of bio-safety labs which is required. Tech transfer is the key and that remains in the hands of the company that has carried out R&D.
Myth 5: Centre has abdicated its responsibility to the states
Fact: The Central Government is doing all the heavy-lifting, from funding vaccine manufacturers to giving them quick approvals to ramping up production to bringing foreign vaccines to India. The vaccine procured by the Centre is supplied wholly to the states for free administration to people. All this is very much in the knowledge of the states. GoI has merely enabled states to try procuring vaccines on their own, on their explicit requests. Health is a state subject & the liberalised vaccine policy was a result of the incessant requests being made by the states to give states more power.
Myth 6: Centre is not giving enough vaccines to the states
Fact: Centre is allotting enough vaccines to the states in a transparent manner as per agreed guidelines. In fact, states are also being informed in advance of the vaccine availability. Vaccine availability is going to increase in the near future and much more supply would be possible.
The behaviour of some of our leaders, who in spite of full knowledge of the facts on vaccine supply, appear on TV daily and create panic among the people is very unfortunate. This is not the time to play politics. We need everyone to unite in this fight.
Myth 7: Centre is not taking any step to vaccinate children
Fact: As of now, no country in the world is giving vaccines to children. Also, WHO has no recommendation on vaccinating children. There have been studies about the safety of vaccines in children, which have been encouraging. Trials in children in India are also going to begin soon. However, vaccinating children should not be decided on the basis of panic in Whatsapp groups and because some politicians want to play politics. It has to be a decision taken by our scientists after adequate data is available based on trials.
The complete statement can be accessed here: https://www.pib.gov.in/PressReleseDetail.aspx?PRID=1722078 (External link)